PhD in
Doctor of Philosophy in Psychology
The University of Texas at Dallas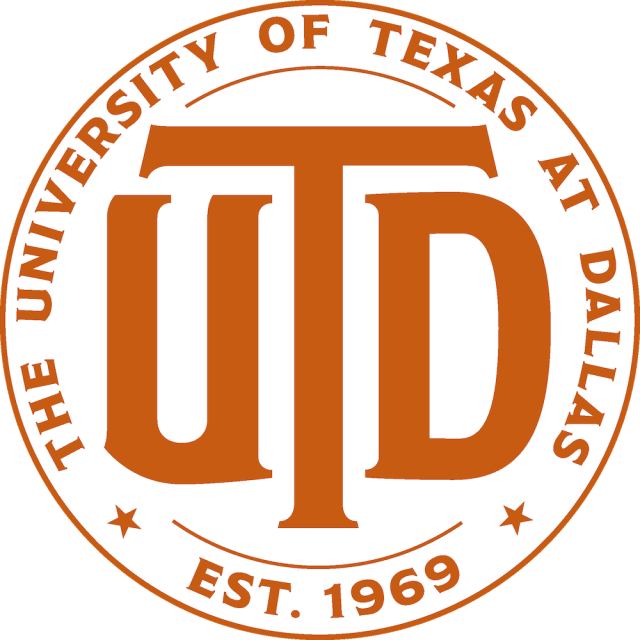 Introduction
The Ph.D. program in Psychology is an experimental psychology program that prepares students for leadership roles in research and teaching. Our program offers training in developmental, cognitive, and social/personality psychology with an emphasis on interdisciplinary research and tailored training experiences that adapt to the specific needs of each student.
Admissions
Admission to a doctoral program is based on a review of the applicant's transcripts, GRE scores, 3 letters of recommendation, and a narrative description of research interests and career goals. In addition to academic requirements, the admissions committee weighs heavily the match between the applicant's research interests and the research areas available to students in the school.
Applications for admission are due December 1. Students are accepted for the Fall semester only. Some courses in the graduate programs in Audiology, Applied Cognition and Neuroscience, Communication Disorders, Human Development and Early Childhood Disorders, and Psychological Sciences complement doctoral coursework and, upon a student's admission to the Ph.D. program, can be applied toward the degree. Students should consult with the doctoral program head to determine which graduate courses can be applied to the Ph.D.
Curriculum
Degree Program
The Ph.D. in Psychology requires 75 semester credit hours minimum beyond the baccalaureate degree.
Objectives
The School of Behavioral and Brain Sciences offers doctoral programs in Cognition and Neuroscience, Speech, Language and Hearing Sciences, and Psychology. Each provides preparation in basic and applied aspects of behavioural and brain sciences. The faculty consists of specialists in developmental psychology, social/personality psychology, cognitive science, neuroscience, cognitive neuroscience, and communication sciences and disorders. Students may specialize in these areas or pursue study across areas as the study of child language, ageing, perception, and behavioural and neural plasticity. Core and specialized courses provide the foundation for advanced seminars and a wide spectrum of doctoral research in laboratories, schools, and clinics. Frequent colloquia and informal brown-bag seminars contribute to a stimulating environment for scholarly development.
Psychology
The doctoral program in Psychology provides opportunities for graduate study and research in experimental psychology. The program offers strong interdisciplinary linkages to other areas within the School of Behavioral and Brain Sciences, including cognitive neuroscience, behavioural neuroscience, and communication sciences and disorders. The primary goal of the program is to prepare productive scientists for scholarly work in academic or applied settings. Students work closely with one or more faculty members in a collegial mentoring relationship. Although all students complete a core curriculum comprised of coursework in Developmental, Cognitive, and Social/Personality Psychology, the program allows students to individually tailor their studies in creative ways.
Course Requirements
75 semester credit hours minimum beyond the baccalaureate degree
Professional Development: 3 semester credit hours
HCS 6302 Issues in Behavioral and Brain Sciences - Part I
Research Methods: 9 semester credit hours minimum
HCS 6312 Research Methods in Behavioral and Brain Sciences - Part I
HCS 6313 Research Methods in Behavioral and Brain Sciences - Part II
HCS 6317 Research Methods in Psychology
Students who have completed courses equivalent to HCS 6312 and/or HCS 6313 or whose prior graduate studies had a strong quantitative focus may, with the approval of the advisor and Area Head, waive HCS 6312 and/or HCS 6313.
Psychological Science Core Courses: 12 semester credit hours minimum
Students will declare a concentration in Developmental Psychology, Cognitive Psychology, or Social/Personality Psychology. Students must take four core courses from those listed below or approved substitutes. Two of these courses must be selected from the concentration, and the four courses must be selected from at least two of the four areas listed.
Developmental Psychology
HCS 6331 Cognitive Development
HCS 6350 Social Development
HCS 6368 Language Development
Cognitive Psychology
HCS 6330 Cognitive Science
HCS 6333 Memory
HCS 6395 Cognitive Psychology
Social/Personality Psychology
HCS 6327 Personality
HCS 6376 Social Psychology
Neuroscience
HCS 6338 Functional Neuroanatomy
HCS 6346 Systems Neuroscience
Advanced Electives: 9 semester credit hours minimum
In addition to completing the 12 semester credit hours of core requirements, students will take an additional 9 semester credit hours of advanced electives. Any core course (see above) may count as an advanced elective, though it cannot count both as a core course and as an elective. One of these 3 semester credit hour elective courses must be an advanced research methods course.
Students may enrol in other advanced electives from the other doctoral course offerings available in the school, including courses in language and communication. Additional advanced electives are available each semester.
Additional Requirements
All students must complete the Qualifying Project/Qualifying Paper requirements of the Ph.D. degree sought. The successful defence of a written dissertation completes the r
Career Opportunities
Graduates of the program seek positions as researchers in hospitals, school systems, research institutes, not-for-profit organizations, and private sector; and professors in private or public colleges and universities.
About the School
The offices and research facilities of the School of Behavioral and Brain Sciences are located on the Richardson campus, and off-campus at the Callier Center for Communication Disorders-Dallas, the Center for BrainHealth, and the Center for Vital Longevity, which is adjacent to the campus of the UT Southwestern Medical Center at Dallas. Facilities on the Richardson campus include teaching and research laboratories for neuroscience, cognitive science, and facilities for the study of child development. The Center for Children and Families and Callier-Richardson provide a variety of clinical services to the community and serve as research sites for graduate students.
The Center for BrainHealth and the Center for Vital Longevity are the primary facilities for the study of cognitive neuroscience. The Center for BrainHealth includes research activities in the areas of ageing and neurogenic disorders in children and adults. The Callier Center-Dallas has its primary focus on speech, language, and hearing, and includes research laboratories, clinical services, and classroom programs for preschool children. The Center for Vital Longevity includes research on how the body and mind can successfully age together and uses cutting-edge brain imaging technologies and advances in cognitive science to identify the "neural signature" of those at risk of not ageing well and preventing problems before symptoms occur. Collaborative arrangements with the UT Southwestern Medical Center expand student research opportunities including access to its clinical populations and neuroimaging facilities. The Center for Children and Families, housed in the School for Behavioral and Brain Sciences, offers an array of clinical and community outreach activities organized around three initiatives: parenting healthy families, strengthening interpersonal relationships, and enhancing thinking and learning.
English Language Requirements
Certify your English proficiency with the Duolingo English Test! The DET is a convenient, fast, and affordable online English test accepted by over 4,000 universities (like this one) around the world.