PhD in
Ph.D. in Chemistry
Saint Louis University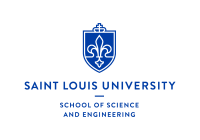 Introduction
Saint Louis University's chemistry Ph.D. program offers specializations, including traditional areas of analytical, physical, organic and inorganic chemistry, as well as cross-disciplinary areas of materials and biological chemistry. Students must complete intensive research culminating in a dissertation.
Program Highlights
The chemistry program offers students:
Close mentoring relationships
Small research group size
Opportunities to participate in interdisciplinary research
Graduate students in SLU's Department of Chemistry have access to a number of research tools, including:
Bruker 400 and 700 MHz NMR spectrometers
Bruker-EMX EPR, UV-Vis and FTIR spectrometers
Research-grade spectrofluorometers
GC-MS and LC-MS
Electrochemical analyzers
Gas chromatographs
A scanning electron micrograph
Computational facilities with modern molecular software
A Bruker CCD X-ray diffractometer facility
Scholarships and Funding
For priority consideration for a graduate assistantship, apply by the program admission deadlines listed. Fellowships and assistantships provide a stipend and may include health insurance and a tuition scholarship for the duration of the award.
Curriculum
SLU's Ph.D. in chemistry requires a minimum of 39 post-baccalaureate credits, with at least 27 credits of coursework and 12 credits of dissertation research.
Fieldwork and Research Opportunities
Our graduate students are active in the research areas of analytical, organic, physical, synthetic, materials, environmental and biological chemistry. Our research groups regularly publish in top-ranked journals and present at national and international conferences.
Research is externally supported by the U.S. Air Force Office of Scientific Research, National Institutes of Health, National Science Foundation, Petroleum Research Fund, and the American Heart Association, among others.
Program Outcome
Graduates will be able to demonstrate advanced level knowledge in both

synthesis and materials chemistry and
analytical and physical chemistry methods, with a higher level of knowledge expected in the student's area of research.

Graduates will be able to use standard search tools and retrieval methods to obtain information about a topic, substance, technique, or an issue relating to chemistry and assess relevant studies from the chemical literature.
Graduates will be able to communicate scientific findings from literature and original findings from the student's own independent research in written publications and oral presentations.
Graduates will be able to acquire the basic tools, including chemical practices and theories, needed to conduct advanced chemical research. Students will become proficient in their specialized area of chemistry and complete an advanced, independent research project resulting in peer-reviewed publications.
Graduates will be able to adhere to accepted ethical and professional standards in chemistry.
Career Opportunities
Doctoral graduates pursue different paths, including teaching, postdoctoral studies, or careers in industry or with government agencies, such as the FDA.
Past students from SLU's chemistry Ph.D. program have gone on to careers as research scientists, teachers, university faculty, and in various capacities in pharmaceutical companies and government agencies.